Scissor Lift Platform
Scissor Lift UK is one of the UK's leading manufacturers of Scissor Lifts and Platform Lifts. Scissor Lift UK have extensive expereince in installing high-quality scissor lifts for a large number of commercial and industrial sectors. We have exceptional attention to detail when it comes to designing a suitable Scissor Lift for your building. Whether that's a modern, contemporary design for a retailer or you're simply looking for something more traditional, our expert team will advise and guide you every step of the way.
Read More
Scissor Lift Platforms
As specialists in the Scissor Lift industry, we are focused on creating bespoke lifts that make heavy lifting feel light. Scissor Lift UK highly take pride in hard workmanship and extraordinary specialised support. With many years of expereince, Scissor Lift has been helping organisations endeavour since 1964, we spend significant time in giving industries productiveness and efficiency to a vast range of sectors all through the UK. Each scissor lift is intended to meet your business necessities and requirements. Edmolift creates bespoke lifts to improve your work life, representatives can utilize our lifts securely and safely guaranteeing proficiency and dependability. Our scissor lifts are produced to the most astounding of principles, with a maximum weight of 2000kg-3000kg. This is to improve on poor stance and conceivably future work-related trauma.
Edmolift's Scissor Lift Platforms comes in a wide range of bespoke sizes, our custom restraints enable clients to effectively move substantial tools without deficiency. From a selection of static and portable lifts to manual and controlled worked scissor lifts, we have the perfect platform lift for each business. Scissor Lifts Platform is turning into a prominent decision for enterprises to expand productiveness and lift work rate at a reasonable expense. With a wide range of sizes and styles to chose from, Edmolift has to skills and qualifications to fabricate bespoke premium lifts all through the UK.
Scissor Lift Platforms are perfect for lifting extremely heavy loads in the workplace They essentially reduce the danger of work-related injuries with regards to moving and handling heavy objects on a day to day basis, so clients don't need to strain or hurt themselves.
Features and Benefits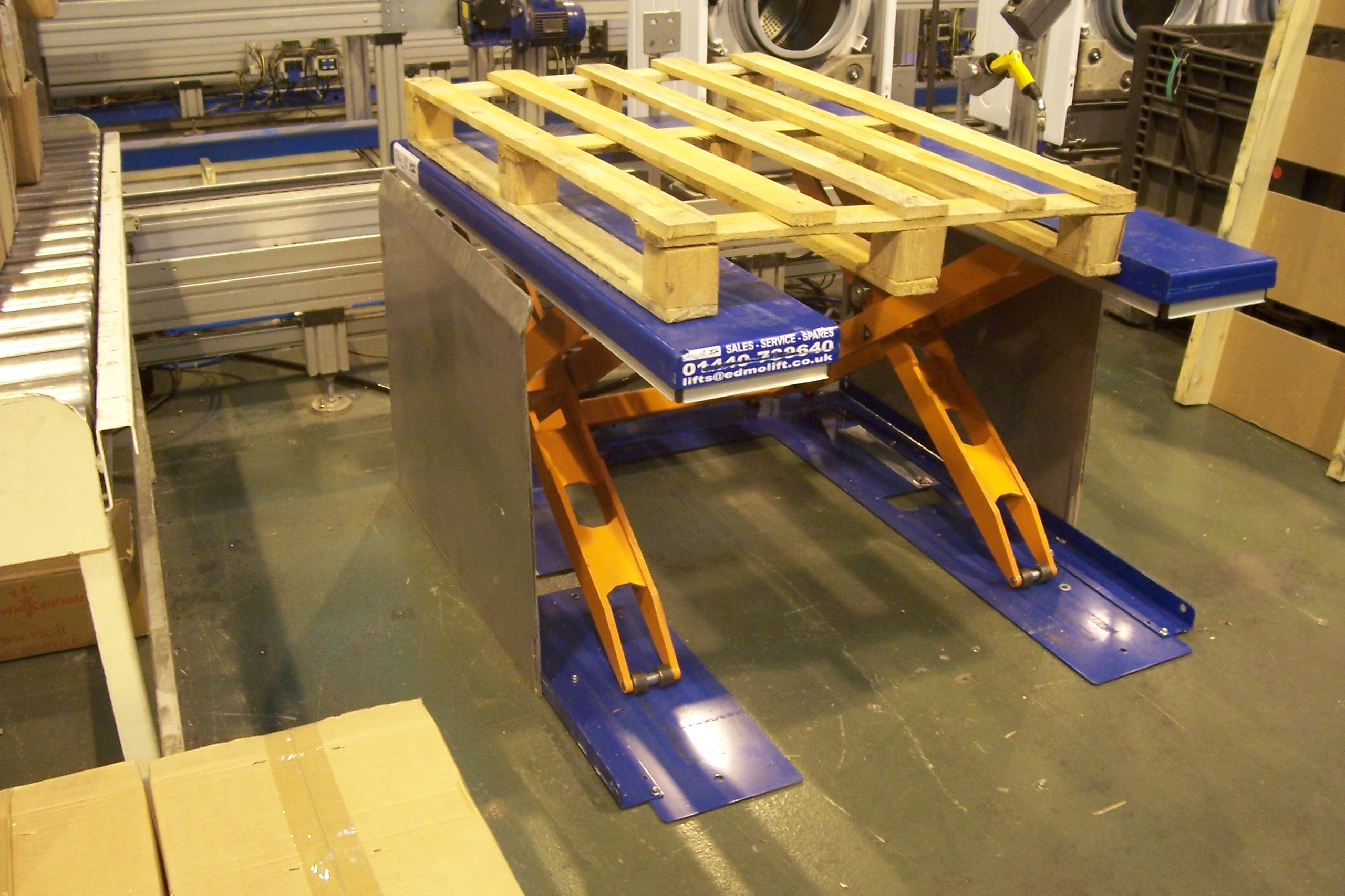 Mechanical props
Zinc plate fixings
C4 two-part powder coat paint
Overload protection
IP54/66 switch gear
Coated, honed air tested cylinders
Electric clapet valve
Hose burst valves
Sealed running wheels
Fully serviceable
Adjustable flow valve
At Scissor Lift Platform we have extensive expereince within the scissor lift platform industry. Our qualified group of engineering specialists upon the day will provide a detailed demonstration of how to use your new scissor lift. This gives us the opportunity to advise and answer any important questions. Edmolift's products are built to exceptional standards providing lifetime speculation that will improve your regular day to day work chores, making work that much simpler. In addition, we feel it is our priority to give our customers the opportunity to custom make their scissor lift platform. Time is money, therefore at Scissor Lift Platform we value our clients and are committed to providing 100% customer care. Whatever the requirements, Scissor Lift Platform can give you the scissor table you need. The versatile scissor lift table range on offer is huge; our expert team can advise you on choosing the one that will best serve your companies needs.
Why Choose Scissor Lift Platform?
Edmolift scissor lift tables are supplied with three-year parts and lanpour warranty and a five-year structural guaranteed.  This is underpinned buy our nationwide network of specialist scissor lift service and maintenance engineers.
Edmolift scissor lift tables are fitted with chromed, honed and air tested hydraulic cylinders with hose burst valves and electric clapet valves for additional security.
Edmolift scissor lift tables use state-of-the-art electrical panels which provide unbeatable reliability and diagnostics that provide our engineers with detailed lift status information
Today Edmolift is the largest producer of scissor lift tables in Europe and installs lifts for all types of applications and environments.
Each Edmolift scissor lift table is fitted with torsion bars at all points of maximum stress to ensure incredible stability and strength.
At our UK Headquarters Edmolift have their scissor lift table design and engineering departments, sales, service and UK stock holding.
Knowledge, experience, support, advice.  Edmolift scissor lift tables – better on every level
For more Scissor Lift Platform features click here