Custom Scissor Lift
From huge XL oversize scissor lift platforms used as car lifts, cargo lifts and stage lifts to the most complex heavy duty automated custom scissor lift handling systems in factories, airports and distribution centres. Edmolift manufacture custom scissor lift platforms for your exact requirements.  No other UK manufacturer and designer is as experienced or knowledgeable than the Edmolift team. For instance, the majority of our key team members have at least 10-20 years of direct experience working with custom scissor lift platform designs and applications.  Moreover, our clients for custom scissor lifts include many of the largest and well known blue chip brands.  Our designers are UK based working from the Edmolift Technology Centre near Cambridge. This is where all design is completed using the very latest AutoCad and Inventor software.  Edmolift clients are welcome to visit us here at the Technology Centre or we can come to you.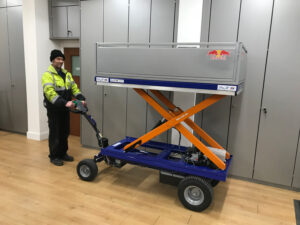 Our custom scissor lift design capabilities are only limited by your imagination.  We build the largest and highest capacity lifts of any supplier. We also offer equipment for intensive use, automated use and for lifting all manner of loads and applications.  Special options include turn tables, cradles, conveyor, load retainers, tilters and many more. Custom materials and finishes are also available. These include, BS306 and BS316 stainless steel, aluminium, galvanised steel, all RAL powder coat paint colours to C5, all Interpon paint finishes to C5 in all matte and gloss. In addition, Custom scissor lifts can be fitted with bespoke electrical systems to control the lifts movements in line with the your automated system.  Elevation and descent can be controlled by speed, height and weight.  Moreover, this can be set to correspond with the speed of the automated line, there really are no limitation on what can be achieved.
Get in touch!
Do not hesitate to speak to a member of our specialist team about your lifting requirements click here to head over to our contact page!
Finally, if Edmolift does not have what you're looking for check out our sister company Lyfthaus to see if they can help.